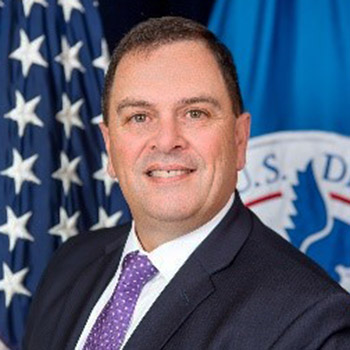 Vincent DeLaurentis
Designee
Deputy Assistant Director, Emergency Communications Division
Board Committees: Network and Technology Committee Member
Mr. Vincent D. DeLaurentis assumed the duties of the Deputy Assistant Director for the Cybersecurity and Infrastructure Security Agency (CISA) Emergency Communications Division (ECD) on April 30, 2018. Having an extensive background in national emergency operations and incident management, Mr. DeLaurentis brings an operator's perspective to drive and promote communications for emergency responders and government officials to keep America safe, secure, and resilient.
Prior to CISA ECD, Mr. DeLaurentis established and served as the Chairman and first Director of the U.S. Department of Homeland Security (DHS) Joint Requirements Council (JRC), connecting operational capability needs to acquisition. In this role, he directed the JRC in analyzing and validating all DHS Components' operational needs, and identifying opportunities for interoperable and multi-use capability solutions. This effort enhanced operational outcomes and effectiveness, and created enterprise-wide opportunities for efficiencies across the Department, utilizing a component-driven requirements assessment.
Prior to his appointment into the Senior Executive Service, Mr. DeLaurentis served for 30 years in the United States Coast Guard in a wide range of leadership positions, including operations, enterprise strategy, operational planning and requirements, human resources, and programming and budgeting. Mr. DeLaurentis commanded multiple Coast Guard cutters, which involved planning, coordinating and executing national security and emergency preparedness, response and recovery missions. He also served as a Coast Guard task force Commander for Operations Unified Response, the international and multi-agency humanitarian response effort to the devastating 2010 earthquake in Haiti. Mr. DeLaurentis is a 1985 graduate of the United States Coast Guard Academy. He also earned a Masters Degree in Public Administration from George Mason University.