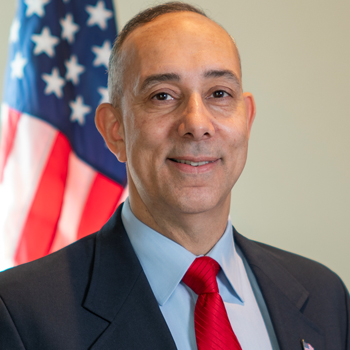 Welton Chase Jr.
Board Member
Brig. Gen. (ret.), U.S. Army, Army Information Technology (Signal)
Term Expires: September 2021
Welton Chase, Jr. is a retired General Officer and combat Veteran who served in the United States Army. He was appointed by the Secretary of Commerce as a member of the First Responder Network Authority Board (FirstNet). He is Chief Executive Officer of Chase Cyber Consulting and a Federal Top 100 Information Technology Award Recipient.
During his career, he served as the Commanding General, 7th Signal Command (Theater) leading the Army's largest theater signal command providing secure reliable communications for over 400,000 throughout the western hemisphere. In 2014, he led US EUCOM's C4/Cyber Directorate and was responsible for all C4/Cyber operations across 53 countries supporting over 100,000 forces. From 2011 to 2014, he was assigned to the Pentagon where he worked on the Joint Staff as an Division Chief in the J8 & J6. He also served as an Executive Assistant in the Chairman's Office for the Assistant to the Chairman where he worked closely with the Department of State. From 2008 to 2011, he served in Korea as the executive officer to the Commander United Nations Command/Combined Forces Command/U.S. Forces Command-Korea (UNC/CFC/USFK) and as the commander of the 1st Signal Brigade Yongsan, Korea. As the 1st Signal Brigade Commander, he was responsible for communications across the Korean peninsula. Prior to his assignment to Korea, he attended the Nation Defense University's Industrial College of the Armed Forces and was a Battalion Commander of the 101st Airborne Division's Special Troops Battalion where he led the unit on its first combat deployment to Tikrit, Iraq in 2005 during OIF IV. He also commanded the 501st Signal Battalion, 101st Airborne Division (Air Assault) in Mosul, Iraq, during Operation Iraq Freedom (OIF1) in 2003. From 2001 to 2003 he was assigned to US Strategic Command, Offutt AFB, where he worked in command post that enable our nation's nuclear deterrent and subsequently served as the Aide-de-Camp to the STRATCOM Commander. From 1998 to 2001, he was assigned to the 4th Infantry Division (Mechanized) at Fort Hood, Texas where he participated in Advanced Warfighter Experiments as part of Task Force XXI. Prior to 1998, he served in a variety of signal and space operations positons including commanding an Airborne Company at Fort Bragg, North Carolina.
His awards and decorations include: Distinguished Service Medal; Defense Superior Service Medal with two Oak Leaf Clusters; Legion of Merit; Bronze Star Medal with two Oak Leaf Clusters; Defense Meritorious Service Medal; Meritorious Service Medal with three Oak Leaf Clusters; the Army Commendation Medal; and a variety of unit and campaign awards. He is a Master Parachutist, Ranger and Air Assault Qualified.
He holds a Master of Science degree in telecommunications from the University of Colorado-Boulder; a Master of Science degree in national resource strategy from the National Defense University; and a Bachelor of Science degree in electrical engineering from Widener University Chester, Pennsylvania.
He is a member of the National Association of Corporate Directions, Association of the United States Army (AUSA) – life member, 101st Airborne Division (Air Assault) Association – life member, Military Officers Association of America (MOAA) – life member, Veterans of Foreign Wars – life member, Signal Corps Regimental Association (SCRA) – life member, 1st Signal Brigade Association – life member, and a licensed private pilot.