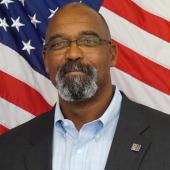 Harry Markley is the senior public safety advisor for Law Enforcement. Harry joined the First Responder Network Authority (FirstNet Authority) after more than 30 years with the Phoenix Police Department. Harry started his career as a patrol officer and was promoted through the ranks to assistant chief of police. In his three decades of service, he touched nearly every part of the department, serving as a narcotics detective, training officer, SWAT team commander, crime lab administrator, precinct commander, and director of the State Police Academy. As assistant chief, Harry led the patrol division, the tactical response team responsible for crowd control, and the downtown operations unit responsible for all of the city's sporting events. 
After his years in the field and leading teams of police officers, Harry understands the major challenges that communications can pose. He joined the FirstNet Authority to help ensure first responders have the tools they need to communicate and keep their communities and their fellow responders safe. Harry spreads the message that the success of FirstNet will be measured not by police chiefs, but by the boots-on-the-ground first responders who operate in the field each day. 
Harry is available to meet with agencies or individuals that want to learn more about FirstNet.