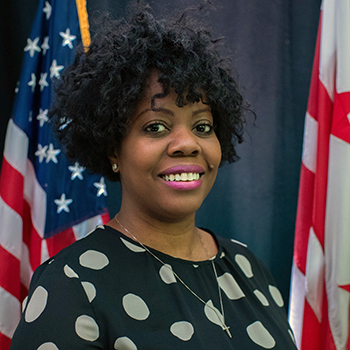 Karima Holmes
Board Member
Board Committees: Advocacy Committee Member
Term Expires: August 2022
Karima Holmes served as the Director of the Office of Unified Communications (OUC) for Washington, DC from 2016 to January 2021.
A seasoned public safety professional and recognized thought leader, Ms. Holmes started her career on the front line as a communications officer and quickly rose up through the ranks to serve as the executive director at PSAPs in large metropolitan areas in the states of Georgia and Texas, before accepting her position in the District. At the OUC, Ms. Holmes has overhauled the technical infrastructure, software platforms and critical programs, thereby evolving the District's PSAP into an entity poised to embrace NG911/311 advancements. Highlights of this evolution include a complete telephony system upgrade, introduction of Text-to-911, the implementation of the criteria based dispatching protocol and a complete overhaul and refresh of all 311 platforms.
A hallmark of her tenure with the OUC is the fortification of collaborative relationships with nearly 30 local and federal law enforcement agencies, as well as the deployment of the PSAP's cache of 8,000 radios for major National Special Security Events (NSSE) such as the 2017 Presidential Inauguration and multiple State of the Union Addresses, to name a few examples. Responsible for supporting the Secret Service and all presidential movements, while maintaining radio interoperability with public safety entities across the National Capital Region, the OUC handled a combined 3.1 million 911 and 311 calls and 12 million push-to-talk radio transmissions in 2019.
Ms. Holmes has both a B.A. in Criminal Justice and a Masters of Public Administration with a concentration in Homeland Security, as well. She also holds an Emergency Number Professional (ENP) Certification from the National Emergency Number Association (NENA) and is a Registered Public Safety Leader (RPL) with the Association of Public Safety Communication Officials (APCO). Director Holmes also currently serves as the Vice Chair of the Metropolitan Washington Council of Governments (MWCOG) 911 Directors Committee and as the District of Columbia's state representative with the National Association of State 911 Administrators (NASNA).