From the beaches to the mountains, North Carolina has a diverse landscape that includes rural, tribal, and urban areas. The state experiences severe weather, such as hurricanes, tropical storms, and flooding, and hosts several large planned events each year, including the North Carolina State Fair and many major sporting events. North Carolina's first responders need reliable communications to protect tourists and residents alike.
The First Responder Network Authority team recognizes the unique communications challenges that North Carolina first responders face. We have been working closely with North Carolina public safety officials since 2014, capturing their feedback and translating it into the design of the FirstNet network. During the development of state deployment plans, our team worked hand-in-hand with North Carolina leaders to ensure the plan was customized to address their needs, including:
Bringing the state's first responders the coverage they need when and where emergencies happen, including along North Carolina's coastline
Giving first responders access to dedicated network assets that can be deployed for additional coverage and support when needed
Following this close collaboration, North Carolina chose to adopt the plan and "opt in" to FirstNet. Today, we continue to meet regularly with state and local officials to discuss their public safety broadband needs. In 2019 alone, our team met with North Carolina public safety officials 10 times. Our engagements in North Carolina included attending the North Carolina FirstNet Executive Leadership Meeting, participating in the FEMA Region IV Monthly Regional Emergency Communication Coordinators Working Group calls, and meeting with public safety officials in Hickory. Engagements like these are crucial to the ongoing success of the network and the advancement of public safety communications across the state and the nation.
Connect with our team of Public Safety Advisors to learn about FirstNet in your community.
North Carolina's FirstNet Authority Public Safety Advisor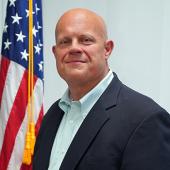 Jonathan Olson
240-474-8954
With FirstNet, you've got the ability of having that day-to-day operational function, that safety, that security, that reliability, on a day-to-day basis, and also in a critical event.
Chief John Cueto
Town of Duck Police Department
---
FirstNet in Action in

North Carolina
---
FirstNet's Cell Booster Pro is a valuable tool for EMS to bridge the gap between FirstNet service in the field and when responders return to the station. This in-building solution boosts FirstNet coverage indoors where EMS officials work. Two EMS agencies that use the device share their experiences and advice for other agencies.

Fire departments around the country are investing in drone technology to keep firefighters safe. Division Chief Dan Cremeans of the Durham Fire Department in North Carolina explained how their drone program helped keep firefighters safe as they battled a fire at a fertilizer plant containing hundreds of tons of highly flammable chemicals.

North Carolina's first responders face a variety of challenges with "communication deserts" throughout the state, especially in rural areas. With a new FirstNet cell tower in Wayne County, first responders will have the coverage they need for emergencies and daily activities.

Warren County's first responders got a major boost in their wireless communications with the addition of two new, purpose-built cell sites. The sites – located in Warrenton and near Lake Gaston – are part of the FirstNet network expansion taking place in North Carolina, which is bringing increased coverage, capacity and capabilities to first responders across the state.