Connecticut is a small, but highly populated, state with an abundance of critical infrastructure such as water treatment plants, power stations, transportation networks, seaports, and hospitals. Connecticut first responders need a reliable communications platform that can support large events like Sailfest, which attracts close to 200,000 spectators, and that can withstand natural disasters, such as hurricanes, blizzards, and flooding.
The First Responder Network Authority team recognizes the unique communications challenges that Connecticut first responders face. We have been working closely with Connecticut public safety officials since 2014, capturing their feedback and translating it into the design of the FirstNet network. During the development of state deployment plans, our team worked hand-in-hand with Connecticut leaders to ensure the plan was customized to address their needs, including:
Considering communication needs on and along waterways
Rapidly deploying interoperable, feature-rich services across the New England region that allow for seamless coordination and use of devices and deployable network assets
Providing highly secure services that fit within the state's cybersecurity framework
Following this close collaboration, Connecticut chose to adopt the plan and "opt in" to FirstNet. Today, we continue to meet regularly with state and local officials to discuss their public safety broadband needs. In 2019 alone, our team met with Connecticut public safety officials more than 25 times. Our engagements in Connecticut included attending the Connecticut State Interoperability Executive Committee Meeting, meeting with the Old Mystic Fire Department, and meeting with the Connecticut Department of Emergency Services and Public Protection Commissioners. Engagements like these are crucial to the ongoing success of the network and the advancement of public safety communications across the state and the nation.
Connect with our team of Public Safety Advisors to learn about FirstNet in your community.
Connecticut's FirstNet Authority Public Safety Advisor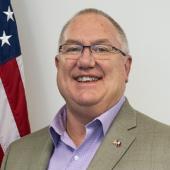 Gary McCarraher
240-449-9378
The Connecticut Incident Management team who we contacted to help us work with AT&T, said, 'Look, we know you guys are down on phones. We're going to make it happen.' And it was done within two hours. We got confirmation, got a quick lesson on [FirstNet devices], and we were good to go.
Andrew Ellis
Assistant Fire Chief, Brookfield Fire Department
---
FirstNet in Action in

Connecticut
---
When the town of Brookfield, Connecticut was hit hard by a tremendous storm with wind speeds over 100 miles per hour, most of the area's communications infrastructure was damaged and overloaded. For Brookfield Assistant Fire Chief Andrew Ellis the lack of communications threatened his ability to coordinate multiple agencies on scene providing mutual aid. Thanks to a quick response, Brookfield first responders were outfitted with 30 FirstNet-ready devices connected to a FirstNet SatCOLT (satellite cell on light truck).