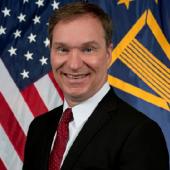 Joseph M. Wassel
Executive Director and Chief Executive Officer
Mr. Joseph Wassel is the Executive Director (CEO) of the First Responder Network Authority. He is responsible for overall management of all FirstNet Authority operations and the organization's strategic direction, to include its unique public-private arrangement to deploy and enhance the Nationwide Public Safety Broadband Network.
Prior to joining the FirstNet Authority, Mr. Wassel served as the Executive for the Cyberspace Operations Directorate within the Defense Information Systems Agency. He is also the former Director of C4 Resilience & Mission Assurance in the Department of Defense (DoD) Chief Information Officer's office. He was also the founder and chair of DoD's Public Safety Communications Working Group, where he led the Services, Joint Staff, National Guard, NORTHCOM, and other DoD partner activities for the Department's public safety communications efforts, including Next-Generation Public Safety Wireless capabilities, Next-Generation 9-1-1 implementation, and Enterprise Mass Warning and Notification capabilities for DoD. Prior to assuming his former positions, Mr. Wassel served as the Assistant to the Secretary of Defense for Communications and Deputy Chief Information Officer for the Office of the Secretary of Defense.
A retired Air Force Officer, he has commanded troops during several tours in the United States and overseas and deployed as a reservist in support of Operation Enduring Freedom as the Chief of Command and Control Operations for the International Security Assistance Force at the Combined Joint Operations Center in Kabul, Afghanistan. Mr. Wassel Joined the Senior Executive Service (SES) Corps in 2019. His military and civilian decorations include the Defense Superior Service Medal, and the Secretary of Defense Meritorious and Exceptional Civilian Service Medals. He was decorated for his actions during the attacks on the United States on September 11, 2001.